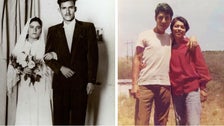 There's no bigger treat than flipping through old photo albums and getting to see your parents before they took on that role ― when they were just two young people in the blissed-out infatuation stage of falling in love. (Of course, the same goes for old-timey, black-and-white photos of your grandparents. So in love ― though probably not smiling in their wedding portraits, if you hadn't noticed.)
In the spirit of sharing those good vibes ― and in honor of Hispanic Heritage Month ― we asked our readers to send us their favorite old-school pictures of their parents and grandparents through the years. See what they had to share and say below.
Note: Submitted captions have been lightly edited for style and clarity.
Nuestras Voces Unidas (Our Voices United) is a HuffPost series created to honor Hispanic Heritage Month and amplify the diverse voices within the community. Find all of our coverage here.
Credit: Source link