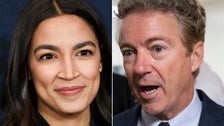 Rep. Alexandria Ocasio-Cortez (D-N.Y.) pulled no punches after Sen. Rand Paul (R-Ky.) mocked her concern for the climate crisis on Twitter.
Ocasio-Cortez, whose signature policy proposal is the sweeping Green New Deal that aims to make the U.S. carbon-neutral by 2030, fired back five hours later.
She accused Paul of taking her old hyperbolic warning about the world ending in 12 years out of context, and called the GOP's climate agenda "about as fictional as" the plot of the Mel Brooks-directed 1987 satirical sci-fi movie "Spaceballs."
Ocasio-Cortez last year warned the "world is going to end in 12 years if we don't address climate change," later tweeting that "you'd have to have the social intelligence of a sea sponge to think" she was being literal.
"This is a technique of the GOP, to take dry humor + sarcasm literally and 'fact check' it," she wrote. She likened the Republican Party to "The Office" character Dwight Schrute.
Leading climate scientists warned in 2018 that there was only 12 years left to avert catastrophic consequences by keeping the planet from warming more than 1.5 degrees Celsius (2.7 degrees Fahrenheit) above pre-industrial levels.
The Trump White House, however, has pursued a decidedly anti-environmental agenda and President Donald Trump himself has repeatedly described climate change as a "hoax" and "bullshit."
Ocasio-Cortez's response to Paul was well-received on Twitter:
Check out the "Spaceballs" trailer here:
Calling all HuffPost superfans!
Sign up for membership to become a founding member and help shape HuffPost's next chapter

Credit: Source link