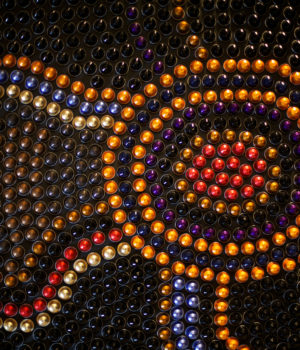 Our story began
back in the late 1930s when Balarinji co-founder and my partner, John Moriarty,
was born to a Yanyuwa mother and Irish father in Borroloola in the remote Gulf
of Carpentaria, Northern Territory.
Because his skin
was paler than his mother's, John was taken from her at the age of four as part
of the now infamous assimilationist policies of the Stolen Generations. It was
a government strategy to eradicate Aboriginality.
After 10 years,
at the age of 15, John would find his mother again briefly in Alice Springs,
only to be immediately separated once more due to them both being Wards of the State.
It was not until another 15 years later that John would have the wherewithal to
return to the Gulf, to be reunited with his family, culture and country.
In 1983 we
established Balarinji in an environment vastly different from now. Opportunities
for Aboriginal design in the public sphere were non-existent.
Balarinji is the
skin name of our two sons. Skin names denote a classificatory system that orientates
people to land and relationships – to belonging. Along with our daughter, we
are an Indigenous Australian family.
The Indigenous narrative is understandably core for our family and our business. We are an Indigenous Australian-owned design agency driven by social change.
But why does this matter to other Australians?
Ask Qantas.
In 1993 I woke up
at 2 o'clock one morning with the idea to paint a Qantas jumbo jet. We deeply
wanted Indigenous story to matter to one of Australia's biggest brands on the
global stage. It was not essentially about an aircraft flying high with our
work. It was a restorative statement by an icon of the nation that had taken
John from his mother.
It was both a
personal and a public way to challenge that abhorrent intention of cultural
cleansing. It became a powerful acknowledgement of Australian identity, and
four more Balarinji art aircraft followed, the most recent in 2018.
This Qantas initiative was a seminal moment. When it comes to design of major projects, such a moment has been missing. The Aboriginal narrative has never been seen as important.
But there is a shift happening
Organisations are
beginning to see the value of including culture in the social, environmental
and economic triple bottom line. There is starting to be a greater
understanding that culture is a powerful determinant of success – whether it's
the culture of the social groups we belong to, the teams we want to work in, or
the collective beliefs we hold as a society.
Through Balarinji
we are working with some of Australia's leading organisations to showcase local
and meaningful Aboriginal narratives. Whether this is activating Aboriginal
design and artworks for railway stations, installing sculptural pieces in
parklands or painting 747s with eye-catching artworks, we have moved the
goalposts on the traditional consultation engagement methodology to share
cultural value.
We are activating voice in completely new ways, using deeply collaborative methodologies to bring local Aboriginal communities together to decide what stories should be told and how.
For instance,
Balarinji collaborated with the Redfern Aboriginal community to art direct and
facilitate public art themes and concepts for the 2019 Redfern Station
improvement works.
As well as being
Gadigal Country, Redfern is considered the epicentre of Aboriginal urban
culture in Australia today. It is often referred to as an Urban Homeland. It
was important to ensure the Aboriginal community had the opportunity to depict
the diverse cultural and contemporary stories that best represent them.
The result was
the incorporation of Redfern's rich Aboriginal culture into public art and
interpretive elements at the station. Balarinji approached the project by
workshopping, commissioning and supporting the curation of artworks by
community-endorsed local artists telling stories specific to Redfern.
This is far
removed from just hanging a token piece of Aboriginal art on a wall that is
unrelated to place. Linking design and public art directly to a site has a
deeper meaning than geographical accuracy. Aboriginal people have a profound
spiritual connection to land and place – to Country. Linking local Aboriginal
stories to public art and embedding them into the built environment, makes the
idea of Country more accessible to the general public, aiding  reconciliation, understanding and cultural
identity for all Australians.
It's taken us 36
years at Balarinji to arrive at this point, and there is more work to be done
to give greater visibility to the Aboriginal narrative. We will continue to
work with organisations to activate cultural design principles and one design
element and artwork at a time, we will continue to shine a light. 
Ros Moriarty is a business owner, social investor and author. She is Managing Director and Co-Founder of both Balarinji and the Moriarty Foundation. In 2018 Ros was appointed the Independent Chair of the FFA Women's Football Council. She is an inductee of both the Australian Design Institute Hall of Fame and the Australian Businesswomen's Hall of Fame.

Her Board appointments have included Menzies School of Health Research Darwin, the National Gallery of Australia, Australian Major Events SA and the Australian Academy of Design. In 2015 Ros was named Winner Business Enterprise in the 2015 Financial Review/Westpac Australian 100 Women of Influence Awards.

Balarinji is a Sydney-based strategy and design business best known for the Balarinji-Qantas collection of art aircraft featuring Aboriginal designs. Balarinji's work for public and private sectors spans public art and curatorial, cultural design principles for major infrastructure, stakeholder engagement, branding campaigns and digital.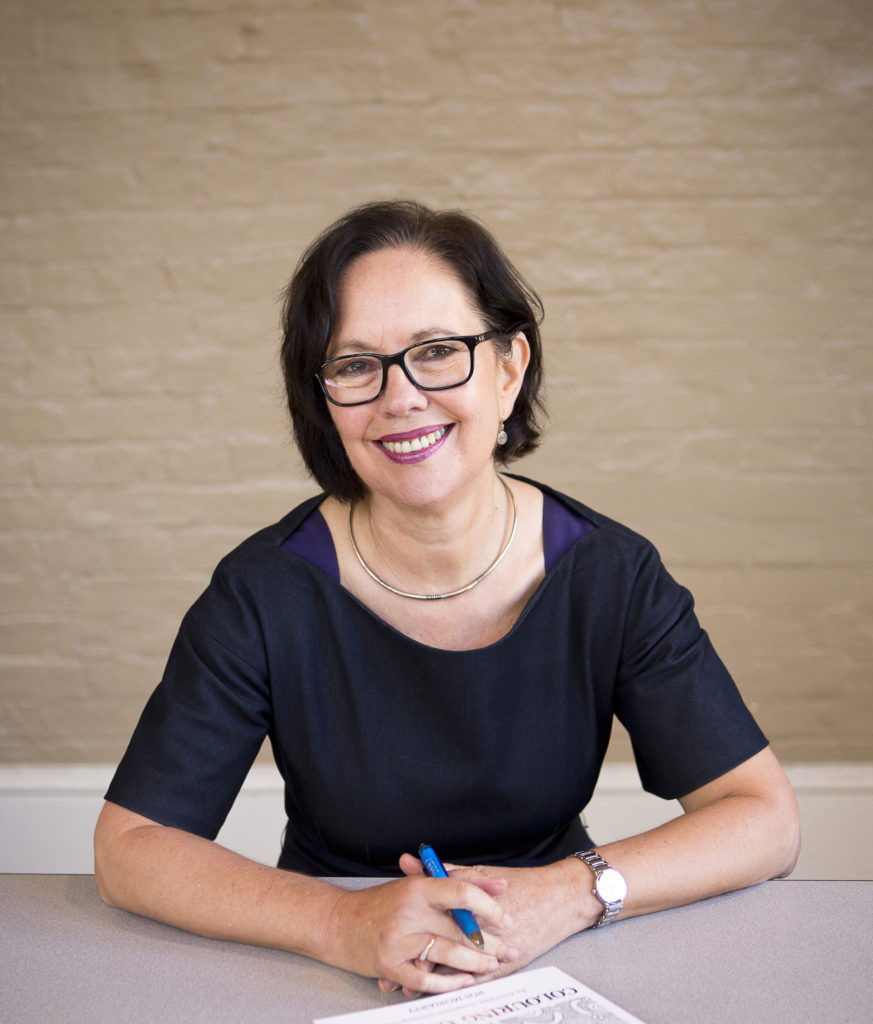 Credit: Source link