Chair of SAM's Board, Dr Jane Lomax-Smith AM
Posted by Jeremy Eccles | 24.11.19
I've written much in recent months about the absence of progress in developing the hoped-for National Aboriginal Art Gallery in Alice Springs. And, just a few days ago, I discovered and republished a story about the Quandamooka people's plans for a specifically local art and performance centre for their culture on North Stradbrook Island off Brisbane. What I've not been writing about is South Australia's plans for a national Aboriginal Cultures and Art Museum (ACAM) in Adelaide.
That's because they've actually been doing something, but doing it quietly.
For instance, the State government has committed money ($150m) and a suitable site on the edge of the CBD – known prosaically as Lot 14 – backing on to the Botanic Gardens, and commissioned a Price Waterhouse Cooper review. Behind the scenes, twenty-four Native Title groups in South Australia have been consulted and signed up to a project that puts much decision-taking and governance into the hands of Aboriginal people. And the board of the evergreen SA Museum (SAM) has offered half of its stupendous contents – 30,000 First Nations items dating back to 1859 – to the new institution, leaving only its natural science rump.
And, like the multi-basemented British Library in London, current thinking is to put all of those items on to the Lot 14 site. Which is just as well because the current storage space for them is crumbling!
All this is happening under a Liberal State government, with Premier Steven Marshall tossing out his ALP predecessor's plan to put a contemporary art gallery on that site – despite a design having been commissioned. But that could not suit the ACAM building – something more appropriate to its dedicated Indigenous use will be needed.
Needless to say, the Art Gallery of SA is not happy. They thought they'd got the sort of glamorous extension that Melbourne, Brisbane and now Sydney's state galleries have achieved. And the Director who negotiated this project – Nick Mizevich, now at the National Gallery in Canberra – has continued to promote his dream.
But the value of a national Indigenous cultural institution is undeniable, based upon SAM's largely unseen riches which were collected right across the North from the earliest days of this colony, when SA itself stretched to the Arafura Sea. SAM's Chair, Dr Jane Lomax-Smith AM – a former Adelaide Lord Mayor and ALP Cabinet Minister – is the one offering up the trope that the collection she's prepared to hand over is "Australia's crown jewels", which, she justifies "is recognised on the UNESCO Memory of the World register; and we have a moral duty to expose this material." She also suggests that "it's the most significant history of humankind in the world", with an expectation of mighty educational opportunities, international research interest, and a focus of visitation to Adelaide – the equivalent of the War Memorial in Canberra.
Talking of which, everyone I spoke to about ACAM used the phrase "truth-telling"….the Makarrata side of the Uluru Statement, which may test the fortitude of a Liberal government with its inevitable mention of Aboriginal massacres. Mind you, I'm told that, in another museological development, the War Memorial has quietly accepted that it will have to acknowledge the frontier wars across Australia in time, and that one of the late Mumu Mike Williams artworks on post bags claiming his Country for the Pitjanjatjarra already hangs prominently.
Dr John Carty is the Head of Humanities at the South Australian Museum, and much of Adelaide's thinking has been promoted by him. "Our extraordinary collection doesn't belong in a classical natural history museum – it should be in the hands of Aboriginal people telling the stories of their country. The PWC review is still underway, but I wonder whether a model might be modelled on the way the new National Museum of African American History and Culture in Washington DC fits into the Smithsonian structure. Our cultural institutions in Adelaide need to talk to each other".
Thinking about the the current domination by whitefellars of institutions across Australia showing Indigenous art, an interesting comment emerged from the 10th anniversary celebrations of the National Gallery's Wesfarmers Indigenous arts worker training program. It has accumulated 104 graduates, and one, Nathan Mudyi Sentance, who did the program in 2017 and is now a project officer at the Australian Museum, commented, "Working in big white colonial organisations can take its toll on your mental health – your cultural values are often challenged".
In Adelaide, of course, the institutions need to talk to the local Kaurna people. Carty has been doing that for 6 months, and he believes they've accepted that though their own priority might be the survival story of the Kaurna people, they are happy to play hosts to the national story. "The hairs on your neck stand up when you go into the leaky sheds where 95% of the collection is currently housed. It's the history of our continent sitting there on the shelves. And no institution in Australia is currently dedicated to that important story".
Fortunately, the SA government has already given $3m for emergency work to rehouse the collection. One wouldn't want it to suffer the fate that Jonathan Jones highlighted with his Garden Palace memorial show in Sydney for John Kaldor – its earliest south east Australian Aboriginal collection burnt to a cinder.
"Our woven collections are unbelievable", Dr Carty continued. "We like to have a logic that people can follow through time – so, for instance, the oldest Narrindjerri weavings from the Coorong helped to reawaken current activity like the mighty whale that Ellen Trevorrow wove for Tarnanthi, but also the wire baskets that are a contemporary development. Interestingly, women's art from the Desert, the Kimberley and Arnhemland is also strong – whereas one might argue that the Art Gallery has a predominantly men's collection. And then we've got all the background material that lead up to Norman Tindale's Aboriginal language map – the work that first gave the lie to Terra Nullius".
Talking of language, Carty envisages that all signage in the museum will be bilingual – "language and cultural practice have got to be part of the architecture of the building. And it should become the theatre in which all future Indigenous debates play out. For Aborigines will feel heard in that setting; and whitefellars can ask the dumb questions! The democracy of it! It won't just be for a few art lovers, but every schoolkid and every tourist gets a free introduction to the country".
But art lovers will get their fill as well. The SAM collection is not just artefacts, but so much that is now admired as art, and plenty of contemporary stuff. And Carty is confident that contemporary collectors will come to the party through donations. "They'll want to be part of the national story. For today's and future artists, our collections are the seed bank of every art centre in Australia. Just about every artist in town for Tarnanthi sees us as a reference library of their community's continuum".
Which leaves the last word to David Rathman AM, Chair of the Aboriginal Advisory Committee at SAM. He expressed his community's views in the Lowitja O'Donaghue Address for the Don Dunstan Foundation in May. "South Australian Aboriginal institutions decided to constructively support the Premier's vision for ACAM as a place devoted to Australian Aboriginal cultures, truth-telling, art, history, science and contemporary life. An Aboriginal presence on Lot 14 will shine a light on the past, demonstrate how we can work together now and forge a path to a future which reflects the true story of Country".
URL: http://www.samuseum.sa.gov.au/
Share this:
»
del.icio.us
»
Digg it
»
reddit
»
Google
»
StumbleUpon
»
Technorati
»
Facebook
Contact Details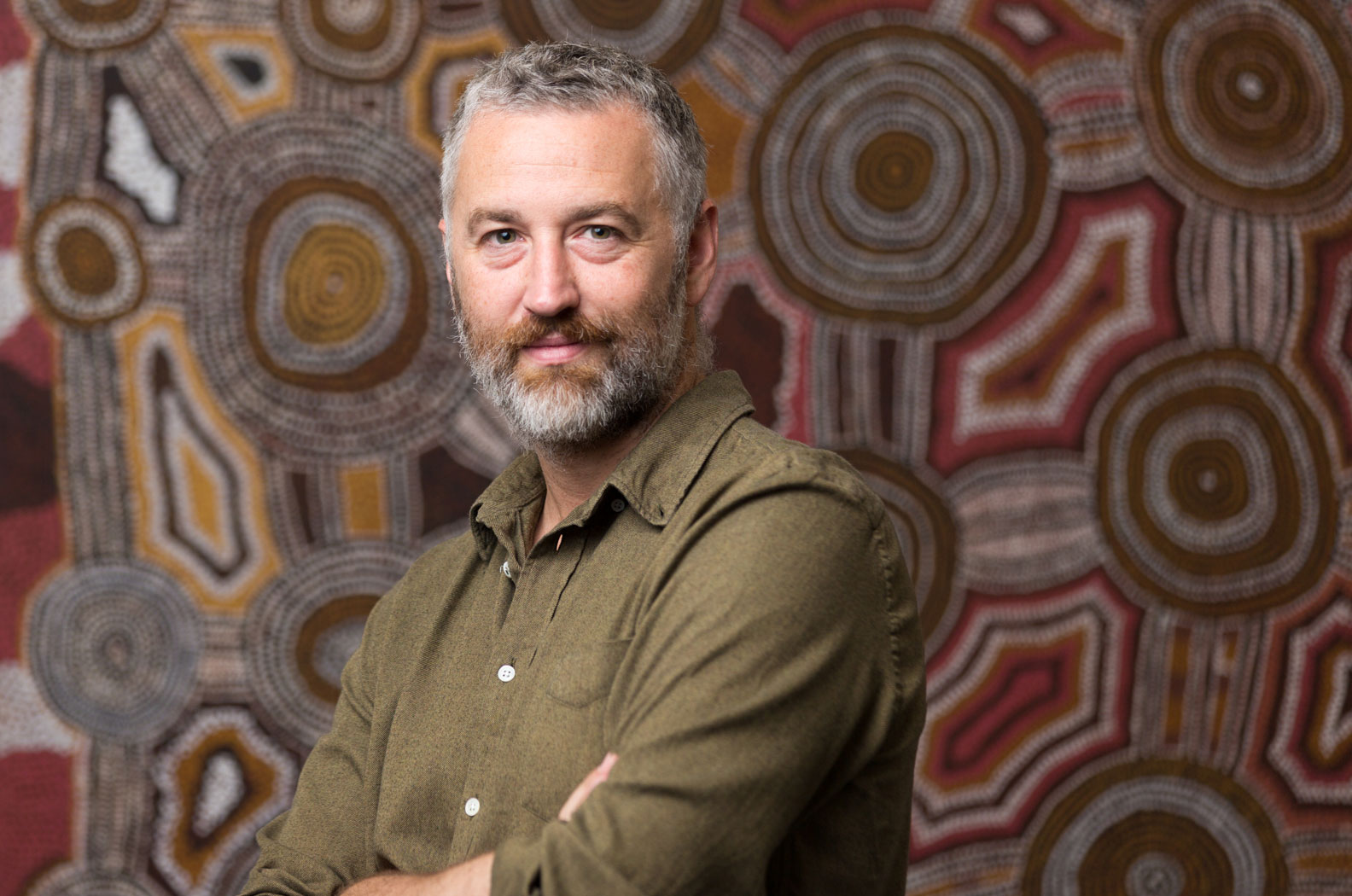 SAM's Head of Humanities, Dr John Carty
Chair of SAM's Aboriginal Advisory Committee, David Rathman AM
Further Research

Credit: Source link