"It would have been impossible for my people to have built wells, silos, houses and yards to pen animals, as Pascoe promotes… Our people also find it insulting so many prominent Aboriginal leaders have supported Pascoe and his theories."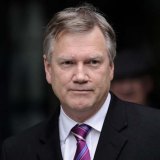 But on Monday, Mr Yumbulul said the letter was "not written by me".
"The statements attributed to me in that article… are incorrect," he said in a signed statement to NITV.
"I have never made comment on Mr Bruce Pascoe. I do not know Mr Pascoe and, with all due respect, I have not read his books… The words attributed to me criticising other Aboriginal leaders are also false."
Mr Pascoe's Indigenous heritage has been under scrutiny after Worimi businesswoman Josephine Cashman sought to have him investigated for allegedly benefiting financially by falsely claiming to be Aboriginal.
On Tuesday afternoon, Indigenous Australians Minister Ken Wyatt wrote to Ms Cashman to tell her that her position on the Voice Co-Design Senior Advisory Group was no longer tenable.
"Following recent discussions with the Senior Advisory Group co-chairs, Professor Dr Marcia Langton, AM, and Professor Tom Calma, AO, and after careful consideration, I have decided that Ms Cashman's membership of the Group is no longer tenable," Mr Wyatt said.
"Ms Cashman's actions are not conducive to the constructive and collaborative approach required to progress the important co-design process for an Indigenous voice."
The Australian Federal Police dismissed the allegations against Pascoe.
Mr Yumbulul said he had spoken to Ms Cashman over the phone and "broadly agreed with the notion that Yolngu people were, and still are, hunters and gatherers", but said "that was the extent of our discussion".
"Ms Cashman has no authority to speak on behalf of Yolngu people," he said.
Bolt has since updated his blog, claiming the letter was provided by Ms Cashman.
In a series of tweets, Ms Cashman says Mr Yumbulul "gave his consent" and "made numerous changed [sic] to the letter & gave permission to publish".
Loading
Bolt and Ms Cashman have also published screenshots that appear to show emails from Mr Yumbulul and his wife, who suggest some "corrections" to details about Yolngu culture, in response to an email with the subject line: "Aboriginal people are proud of their hunter and gatherer heritage".
The broader context of the emails is unclear.
The Herald and The Age has sought comment from News Corp and Josephine Cashman.
Ella Archibald-Binge is a Kamilaroi woman and the Indigenous Affairs reporter at The Sydney Morning Herald.
Credit: Source link