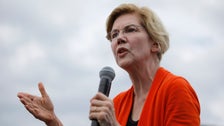 MINNEAPOLIS ― Sen. Elizabeth Warren just unveiled multiple policies on criminal justice reform specifically aimed at reducing mass incarceration while putting more resources toward community-driven initiatives. 
The Massachusetts Democrat's plan, released Tuesday, centers on how people think of public safety and the false notion that mass incarceration leads to safer communities. Some of the ways to reframe public safety, according to her plan, involve creating accessible mental health services, protecting LGBTQ people from violence, implementing violence intervention programs for youth and providing safe, affordable housing.
"Real reform requires examining every step of this system," the 2020 presidential candidate said in a Medium post. "From what we choose to criminalize, to how law enforcement and prosecutors engage with communities and the accused, to how long we keep people behind bars, how we treat them when they're there, and how we reintegrate them when they return."
Warren on Tuesday touched upon portions of her plan during a roundtable discussion about criminal justice reform at Better Futures Minnesota, a Minneapolis-based nonprofit that employs previously incarcerated workers in an effort to reduce recidivism.
"Justice is not free," she told the panel, which included state Rep. Jamie Long (D) and Hennepin County chief public defender Mary Moriarty. "We have to invest in it to make it work."
Better Futures Minnesota president and CEO Thomas Adams said offering programs to former inmates that enrich their lives as well as their communities is key to breaking the cycle of mass incarceration.
"We have individuals who have done their time and we continue to marginalize them, ostracize them and treat them not only as second-class citizens but as no-class citizens," Adams said. "Then we're confused as to why there's this revolving door of people going back [to prison]. We want to disrupt that."
"It's amazing what happens when someone feels good about themselves," he added.
Among her long list of proposals is investing in violence reduction initiatives that focus on community-centric restorative justice, such as Ceasefire, a program modeled in Boston; Oakland, California; and Chicago that uses community partnerships and rehabilitative methods to tackle gun violence, reduce recidivism, improve police-community relationships and heal the community instead of contributing to mass jailings. Recently, researchers found that Oakland has cut its annual homicides and nonfatal shootings by nearly half since 2012.
Warren also called for the repeal of the 1994 crime bill, which was considered one of fellow 2020 Democrat Joe Biden's biggest achievements as a senator but has since become associated with the rise in mass incarceration. Sen. Cory Booker (D-N.J.), also a presidential rival, has also called for repealing the crime bill. In her plan, Warren mentioned that the crime bill's mandatory minimums for incarcerated people are not effective and must be reduced or eliminated.
Asked Tuesday if her call to roll back the 1994 crime bill was a direct criticism of Biden, Warren danced around the question.
"It's a direct criticism of a bill that has been very harmful to millions of people and has been particularly harmful to communities of color," she told reporters. "We need to correct that mistake."
In addition, Warren called for initiatives to support incarcerated people's reentry into their communities. Some of those initiatives include creating a federal expungement option, which mimics what many states do at their government level, and reversing federal guidance that exempts private reentry programs that contract with the Federal Bureau of Prisons from anti-discrimination laws.
Tonja Honsey, executive director of the Minnesota Freedom Fund, a nonprofit that pays bonds for low-income individuals who cannot afford to, said developing initiatives to address the trauma people experience during and after incarceration is essential.
"It's continued trauma even after you leave [prison]," said Honsey, who spent roughly two decades of her life in and out of incarceration and now works to keep others from falling into the same cycle. "How do we start to talk about that … and recognize what they've been through?"
Real reform requires examining every step of this system.
Sen. Elizabeth Warren
Warren acknowledged in her proposal that the federal government oversees just 12% of the country's incarcerated people, making it difficult for a president to ensure reform at local levels. Warren said her administration would "incentivize adoption of new federal standards through the grantmaking process" for local and state governments, pointing out that federal grants comprise almost a third of state budgets and that about 6% of state budgets is dedicated to law enforcement.
"We cannot achieve this by nibbling around the edges ― we need to tackle the problem at its roots," Warren said in her Medium post. "That means implementing a set of bold, structural changes at all levels of government."
These policies are not Warren's first plans aimed at reforming the criminal justice system. The presidential candidate has already proposed banning private prisons, ending cash bail and legalizing marijuana. Her campaign's record also includes supporting the Black Lives Matter movement and the demilitarization of law enforcement to combat police brutality, something she has in common with rival candidate Sen. Bernie Sanders (Vt.).
The new proposals add to Warren's list of policies that address racial inequity. The senator has already released plans that aim to address the racial wage gap, wealth gap, maternal mortality gap and "startup capital gap.″ She's said before that the root of the problem in the criminal justice system is race, and reaffirmed that in her Tuesday plan, saying "race permeates every aspect of the system."
Warren's plan to reduce mass incarceration joins criminal justice reform plans of her fellow presidential contenders: Biden, Booker, former Housing Secretary Julián Castro, Sen. Kamala Harris (Calif.) and Sanders. 
This story has been updated to include comment from Warren's roundtable at Better Futures Minnesota in Minneapolis.
REAL LIFE. REAL NEWS. REAL VOICES.
Help us tell more of the stories that matter from voices that too often remain unheard.

Credit: Source link