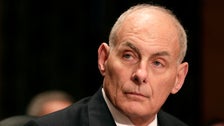 WASHINGTON ― Secretary of Homeland Security John Kelly told Latino members of Congress that his immigration agents aren't going rogue or blurring the line when it comes to enforcement at schools, churches and other sensitive locations, lawmakers said after meeting with him on Tuesday.
But the members "vehemently disagree," as Rep. Michelle Lujan Grisham (D-N.M.), who chairs the Congressional Hispanic Caucus, told reporters. And they plan to keep collecting photos and other evidence to illustrate what they say is a marked change in immigration enforcement under President Donald Trump, who's promised to unleash agents who felt constrained under the last administration.
Kelly told lawmakers he would look into their reports of misconduct on the part of Immigration and Customs Enforcement and Customs and Border Protection agents, CHC members said. But overall, the secretary seemed defensive about the idea that even a small number of his agents might be violating policy, according to the members.
"There does seem to be an incredible reluctance on [Kelly's] part to accept that any of these cases are real," Rep. Joaquín Castro (D-Texas) said. "So my concern is that there's a bit of a 'see no evil, hear no evil' mentality on his part."
Since Trump took office, there's been an increase in reports of ICE and CBP agents carrying out enforcement efforts near schools, churches and hospitals, although a "sensitive locations" policy set under President Barack Obama is still in place. Democratic lawmakers and immigrant rights advocates fear that agents who feel less shackled under Trump will push the limits, either by conducting enforcement just outside "sensitive locations" or by violating the policy altogether.
It's not an empty concern. The president has frequently indicated that ICE and CBP officers and agents should be allowed to do what they think is best, a departure from the Obama administration's top-down approach to setting priorities. Officers and agents in ICE and CBP took notice ― some of them applauded Trump's electoral victory for that very reason.
His blatant denial of the facts is insulting to the intelligence of the American people but unsurprising given the Trump administration's aversion to telling the truth.
Rep. Ruben Gallego (D-Ariz.)
CHC members pressed Kelly on whether ICE will train its officers and agents on specific priorities for enforcement. Their impression is "that there are many communities, regions and districts that are allowing their agents to pick up anybody they want to pick up," Lujan Grisham said, adding that Kelly did not commit to or dismiss the training idea.
CHC members said the meeting went more smoothly than Kelly's discussion with the broader House Democratic Caucus last month. At Tuesday's meeting, they said he seemed more willing to listen to their concerns, rather than dismissing them outright. He asked for examples he could look into and promised to try to get to the bottom of their concerns.
Rep. Tony Cárdenas (D-Calif.) said members told Kelly they weren't talking about 99 percent of agents ― only the small number who might not be following priorities or policies.  
"In any environment, whether it's politicians, whether it's judges, whether it's ICE officers or any environment, it's that 1 percent that causes chaos," Cárdenas told reporters. "It's that 1 percent who step out of line. And that was my point to him, was 'What are you going to do about that 1 percent?'"
The first thing CHC members want is for Kelly to acknowledge there's some truth to the reports of ICE agents coming near schools and churches. Rep. Ruben Gallego (D-Ariz.) issued a statement Tuesday saying Kelly's defense of ICE agents' actions was "disappointing."
"His blatant denial of the facts is insulting to the intelligence of the American people but unsurprising given the Trump administration's aversion to telling the truth," Gallego said. 
REAL LIFE. REAL NEWS. REAL VOICES.
Help us tell more of the stories that matter from voices that too often remain unheard.

Credit: Source link