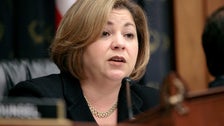 WASHINGTON ― The Congressional Hispanic Caucus wasted no time Friday threatening to fight incoming President Donald Trump "at every turn" if he moves to reverse his predecessor's order protecting thousands of young people from deportation.
Trump, who won the presidency on anti-immigration promises, has the power to undo President Barack Obama's 2012 executive order establishing the Deferred Action for Childhood Arrivals program, known as DACA. The program shields more than 750,000 undocumented young people who were brought to the U.S. as children from deportation so they can work or attend college.
Rep. Linda Sanchez (D-Calif.) joined fellow caucus members Friday afternoon at a press conference, railing against the new president's immigration policies.
"We are here today on the day of inauguration to send a very clear message to our president: The CHC is going to stand up and fight for the rights of the Hispanic community," Sanchez said. "The president of the United States has made it abundantly clear, including in his speech today, that he is openly hostile to immigrants particularly immigrants of Mexican ancestry."
Sanchez, a daughter of two immigrants, shared her story and defended her parents' contribution to the U.S.
"Mr. President: I'm American, and I'm not going anywhere," Sanchez said, visibly agitated. "Get used to seeing our faces. Our Hispanic community will be there at every turn during your administration to show you that we're going to keep fighting for what's best for our community and ultimately what is a blessing for our country."
The lawmakers displayed a picture of the Berlin Wall coming down, with then-President Ronald Reagan's quote, "Tear down this wall," scrawled across it.
Rep. Joaquin Castro (D-Texas) said he hopes Trump does not undo DACA without a replacement policy.
"These people are as American as you and I," Castro said of Dreamers.
A bipartisan group of lawmakers in the Senate introduced legislation in December to protect Dreamers. It recently gained more Republican co-sponsors.
"This is the first president in recent history who has been anti-immigration," House Minority Leader Nancy Pelosi (D-Calif.) said as stood alongside the Hispanic lawmakers.  
"This is a departure from bipartisan support for the role of immigration into our country historically and recently," Pelosi continued. "And we just have to keep speaking out about it … and public sentiment will prevail and the president will know the harm that he is doing to our country by going forward with something that might have some popular appeal in the campaign, but has no place in the White House."
REAL LIFE. REAL NEWS. REAL VOICES.
Help us tell more of the stories that matter from voices that too often remain unheard.

Credit: Source link