White House Chief of Staff John Kelly told a meeting of Democratic lawmakers that President Donald Trump's campaign pledges to curb immigration ― including his promise to build a wall along the U.S.-Mexico border ― were uninformed, and that such a structure was unlikely to happen in full, according to multiple media reports.
Kelly made the comments to members of the Congressional Hispanic Caucus on Wednesday in a closed-door session that was first reported by The Washington Post. His comments were confirmed by Rep. Luis Gutiérrez (D-Ill.), who was at the meeting.
"I can confirm that Chief of Staff Kelly said today that the President's campaign was not fully informed about the wall he was promising to voters," Gutiérrez said in a statement. "Kelly went on to say that many campaigns are not fully informed about every policy and that campaigning and governing are two different things and that governing is harder."
Gutiérrez also went on to confirm reporting by The New York Times that Kelly took credit as the "one who tempered" Trump's more extreme opinions on the wall and the viability of the Deferred Action for Childhood Arrivals initiative, also known as DACA.
"Kelly took credit for educating the President on the wall and that a concrete barrier from sea to shining sea was no longer the conception of border security barriers supported today by the White House," Gutiérrez said.
During the meeting, Kelly said he was optimistic about the prospect of a DACA deal and that the president was "committed to a permanent solution," according to the Post. Kelly later told reporters that he believed an agreement would "be worked out" by Congress. 
The comments put one of Trump's most senior aides at odds with the president's recent statements continuing to stump his wall. Trump insisted that Mexico would still pay for the construction in an interview last week with The Wall Street Journal, although he clarified that it would pay "indirectly" through the North American Free Trade Agreement.
"[Mexico] can pay for it indirectly through NAFTA," Trump told the Journal. "We make a good deal on NAFTA, and, say, I'm going to take a small percentage of that money and it's going toward the wall. Guess what? Mexico's paying."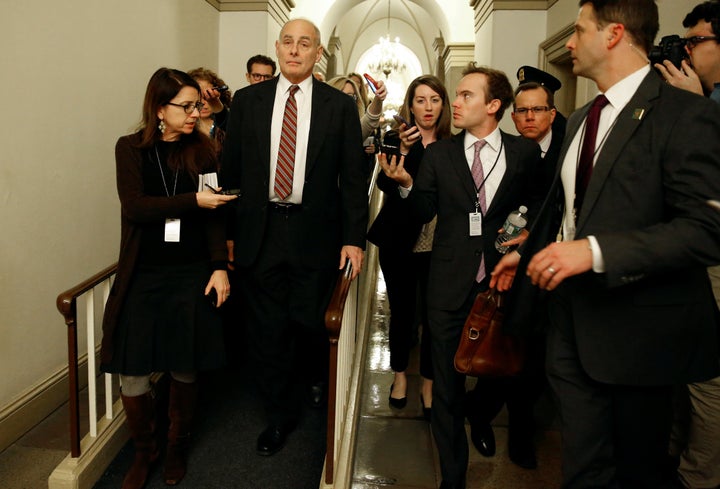 REAL LIFE. REAL NEWS. REAL VOICES.
Help us tell more of the stories that matter from voices that too often remain unheard.

Credit: Source link