JAMES COYNE: Johnny Mullagh – born Unarrimin – takes his place in the pantheon of Australian cricket for his brilliance on the historic Australian Aboriginals tour of 1868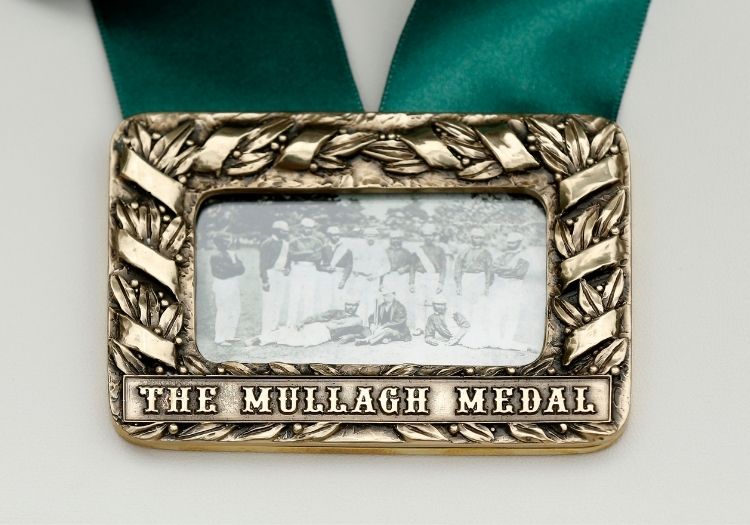 There was a landmark moment in Australian cricket on December 26. Cricket Australia introduced a new award for the man of the match in the Boxing Day Test. The first recipient was Ajinkya Rahane for his brilliant century and leading India to victory, squaring the Border-Gavaskar Trophy series against Australia.
The Mullagh Medal is named after the foremost indigenous Australian cricketer of his time – the star of the landmark Australian Aboriginals tour of England in 1868.
Daniel Brettig and others in Australia have written recently about the way indigenous cricketers have been largely absent from Australian cricket – though mercifully that appears to be changing with the likes of Jason Gillespie, Dan Christian, D'Arcy Short and Ashleigh Gardner, to name just the most prominent. To be frank, that's something I would struggle to write about with any authority.
But the bare facts of Mullagh's story are so profound that everyone deserves to know about it. In 21st century Britain, it's hard to fully appreciate the impact the raising of an Aboriginal team in 1868 must have had in Australia, and in England too.
Thankfully, it's not as if the tour had been written out of history. Indeed, CA sent Australian Aboriginal men's and women's sides to England in 2018 to mark the 150th anniversary. Each player was matched up with one of the members of the original 1868 party, and Christian, proud of his Wirajuri ancestry, was paired with Mullagh. "I've got a lot to live up to," he said.
The Irish-sounding name Johnny Mullagh was in itself – sad to relate – something of an insult. He was in fact born Unarrimin, into the Jardwadjali people, near Harrow, Victoria in 1841, not long after Europeans colonised that area of western Victoria.
The European sheep shearers who could not (or chose not to) pronounce indigenous words christened him 'Black Johnny' – after his boss, John Fitzgerald – to distinguish him from 'White Johnny'. Mullagh came from the sheep station where he was born.
Luckily there were white Australians who believed in trying to achieve harmony with indigenous people, and one of those was Tom Wills. He one of the pre-eminent sportsmen of his era – the founder of Australian Rules Football, no less. He even spoke some indigenous languages, allowing him to coach the Aboriginal players in English and their native tongues. Wills' story is itself tinged with sadness and bloodshed.
Still, he retained a desire to mix with indigenous cricketers, and on his return to Victoria gathered the best he could find in the Western District to take on the establishment Melbourne Cricket Club in 1866. As ever through human history, money did have something to do with it – it seems Wills was paid for doing so.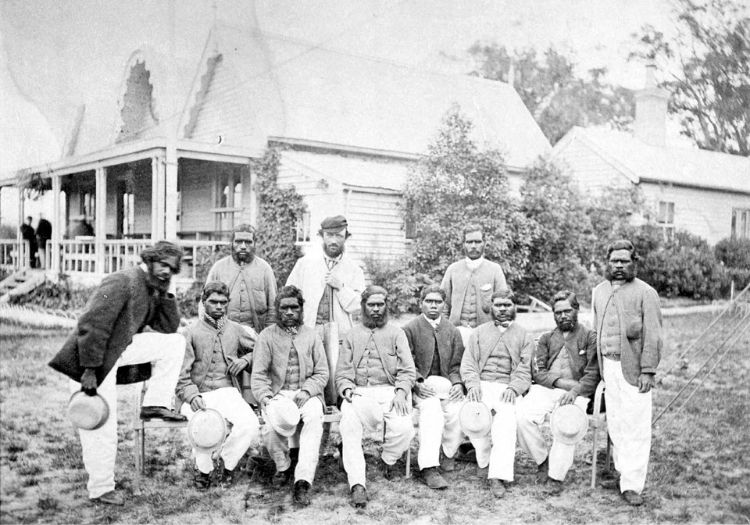 The team, featuring Tom Wills (standing third from left) and Johnny Mullagh (standing fourth from left)
The match took place on Boxing Day 1866 at the Melbourne Cricket Ground. The team were photographed in front of the club's old pavilion. (Interestingly, actual Test cricket on Boxing Day at the MCG would not take place until as late as 1950.)
When Melbourne CC got wind of the proficiency of the Aboriginal team, they strengthened their side with non-members, which seemed to generate widespread sympathy among Melburnians for the Aboriginal side.
Ten thousand people came out to watch this landmark fixture. However, the Melbourne CC skipper Richard Wardill was not expected to toss up with a black man – Wills captained an otherwise dark-skinned side.
The Aboriginals were beaten by nine wickets in a low-scoring game typical of the age of dodgy pitches, but Mullagh top-scored in both innings and opened the bowling with his quickish round-arm for good measure.
Mullagh is said to have despaired slightly about the techniques of some of his team-mates. His batting was wristier and more polished, and – much like WG Grace – after delivering the ball he would follow-through closer to the batsman than some purists liked, which on the fruity wickets of the time helped him complete plenty of caught-and-bowled dismissals.
The success of the Aboriginal side inevitably led some avaricious businessmen to start to sniff opportunities to make some money out of them – and Wills was usurped in his management of the Aboriginals by a certain WED Gurnett, who promised to arrange a tour of the colonies. He had Wills arrested and then embezzled some money out of the touring accounts, leaving the Aboriginals stranded in Sydney on the eve of the arranged tour.
Charles Lawrence, who had played for Surrey, Middlesex and Ireland before emigrating to Australia, took up the leadership of the Aboriginal team for the tour of England. It is worth remembering at the time that just three overseas cricket tours had ever been staged before – and all by English teams. This was the first Australian touring side in any sport.
They landed in a Britain where racial theories were abounding in the light of Charles Darwin's publication of The Origin of the Species. This was a time before the emergence of West Indies or India as a touring entity, and so most British people had not seen many non-white cricketers before.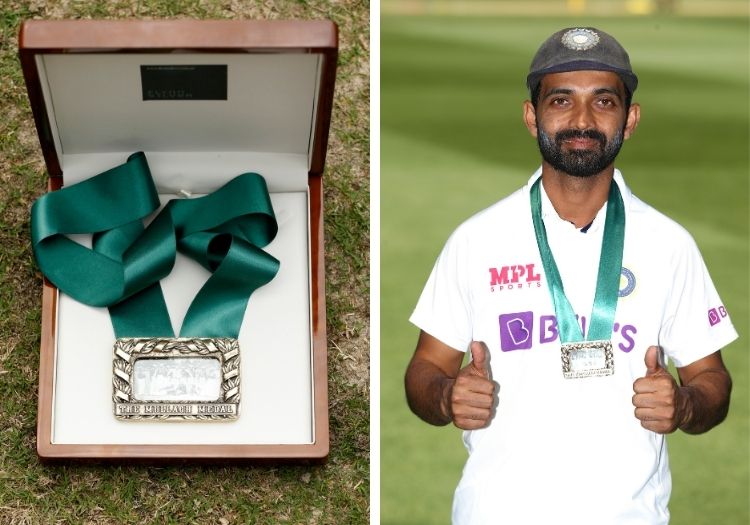 Ajinkya Rahane with the medal
Even in the more sympathetic sources there was that curious mixture of curiosity and condescension you often encounter in the period. The Times reckoned them "perfectly civilised, and quite familiar with the English language".
As was the taste of the Victorian era, the team was required to display some of their 'native' customs after a match – whether dressing up in their traditional dress, spear-throwing or boomerang displays. Dick-a-Dick (real name Jumgumjenanuke) would protect himself with a narrow shield while spectators took turns trying to hit him with cricket balls. Money was changing hands on this, and it helped fund the tour.
The Aboriginals were narrowly beaten in a Throwing the Cricket Ball contest – a staple of Victorian sports days – by a certain William Gilbert Grace, 20, who threw 118 yards.
Mullagh, in the course of a boomerang display, even "struck a gentleman on the head", saved from worse injury only by the peak of his hat. Medical attention was carried out before the man was rushed to hospital.
It's mad to pretend it was all wine and roses. Sometimes the racial discrimination was veiled; at other times it was overt. Mullagh was denied access to the luncheon tent at York by the Gentlemen of Yorkshire – clearly not gentlemen in the proper sense – and he refused to take the field in protest. There must have been other such instances involving the other members of the team. Mullagh also admitted to pining – unrequitedly – after British women.
Mullagh was the undoubted star of the tour, scoring 1,698 runs and taking 245 wickets, though none of the matches were accorded first-class status.
After scoring 33 and 73 against the Surrey Club he was chaired around The Oval by the home players.
His best all-round game was 8 for 9 and 94 against Reading CC, but it was his eight wickets and 75 against a strong MCC side at Lord's which would have cemented his reputation as a cricketer. Thanks to Mullagh's innings, the Aboriginals even led by 21 on first innings, though MCC got home by 55 runs in the end.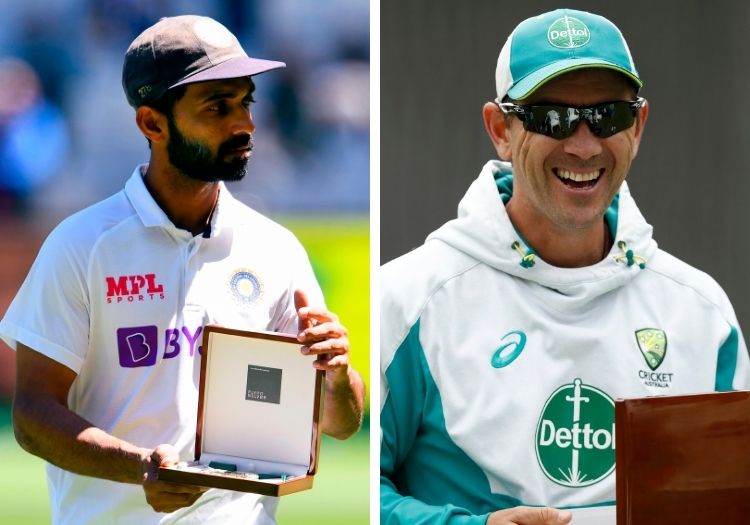 Rahane and Australia coach Justin Langer inspect the Mullagh Medal
Mullagh stood in as wicketkeeper on occasions when Bullocky (real name Bullchanach) was indisposed, and pulled off four stumpings – standing up no matter the pace of the bowling was the done thing in those days.
Fred Gale declared him good enough to represent the Players against the Gentlemen. George Tarrant declared: "I have never bowled to a better batsman."
All told, the team won 14 out of their 47 matches, with 14 defeats and 19 draws.
On returning home, though, the Aboriginals were soon subject to severe restrictions about where they could and could not go, through the Aboriginal Protection Act of 1869. Any Victorian Aboriginal attempting to travel for cricket had to receive permission from the authorities.
Mullagh did still join Melbourne CC as a professional, and was selected for Victoria in 1870/71 – though did not report to the management, so lost his place.
He was not selected again for his state for another eight years, by which time he was 38. His sole first-class match came at the MCG against the touring XI led by Lord Harris. Mullagh bowled a few overs with the great Jack Blackham behind the stumps, before scoring 36 in the second innings. AN 'Monkey' Hornby gave him one of his bats after the match.
Mullagh would die the day after his 50th birthday, earning a brief two-line obituary in Wisden. In death, he would eventually earn his place in Australian cricket history.
In Harrow there is a museum and sports ground dedicated to him and the indigenous cricketers. Ian Chappell, the former Australia captain, twice applied to have him added to the Australian Cricket Hall of Fame, which was started by the Melbourne CC and opened by the then-prime minister John Howard in 1996.
That campaign has now succeeded. Mullagh stands alone in the Australian Cricket Hall of Fame as the only inductee who did not represent Australia, and the only man who did not play Test cricket. There are, as we have seen, extenuating reasons for why he didn't come into the reckoning.
It's also true that cricketing halls of fame struggle a little to contextualise cricket played before the dawn of Test matches in 1877.
But Mullagh's achievements are clear. His excellence – in difficult circumstances, to put it mildly – and the fact he was the best of the inaugural Australian touring side, seems to me to make an incontrovertible case.
At times it feels there is no more of a cricketing country than Australia – and Unarrimin was a truly landmark figure in it.
Please ensure all fields are completed before submitting your comment!
Credit: Source link