The day retail consultant Tony McFadzean stopped off at a remote station a 20-minute drive from Kings Canyon in the ochre dust of Australia's red centre, he began a love affair that was to change his life.
The raw beauty of the landscape at the foot of the spectacular George Gill Range, studded with rocky outcrops providing magnificent views of the 1800-square-kilometre wilderness, made his spirits soar.
"I thought, 'Wow! Just look at this place!'," he says today of his chance encounter with Kings Creek Station, about 330 kilometres from Alice Springs, in the Northern Territory.
"It was just so stunning. As soon as I saw it, I fell in love with the place. And then I met the owner, and fell in love with him too."
[dm-listing-recommendation experimentname='midcontent-listings' positiononpage='midcontent']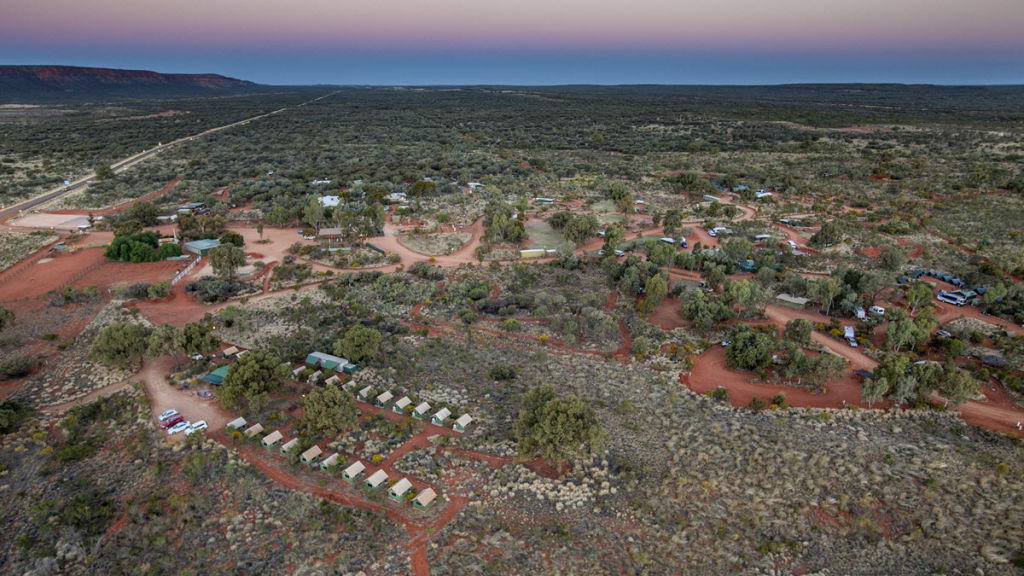 McFadzean, 62, who'd spent most of his career in retail, and 35 years of that with Woolworths before retiring at 55, couldn't forget the property that had so touched his heart.
Then, when he heard earlier this year that it was on the market, he went straight back and talked to the owner.
"And then we bought it on the spot," he laughs. "There was a bit of interest in it, so we had to move quickly. But my two business partners loved it too, and we felt it has a great future.
"It's such a beautiful place and it offers so many opportunities to attract more visitors and for them to form emotional attachments to it too. It's a wonderful part of Australia, an unbelievable area to visit. To say I'm excited is an understatement!"
The vast Kings Creek Station is just 35 kilometres from the iconic towering red rock cliffs of Kings Canyon and its Watarrka National Park, and 300 kilometres north-east of Uluru.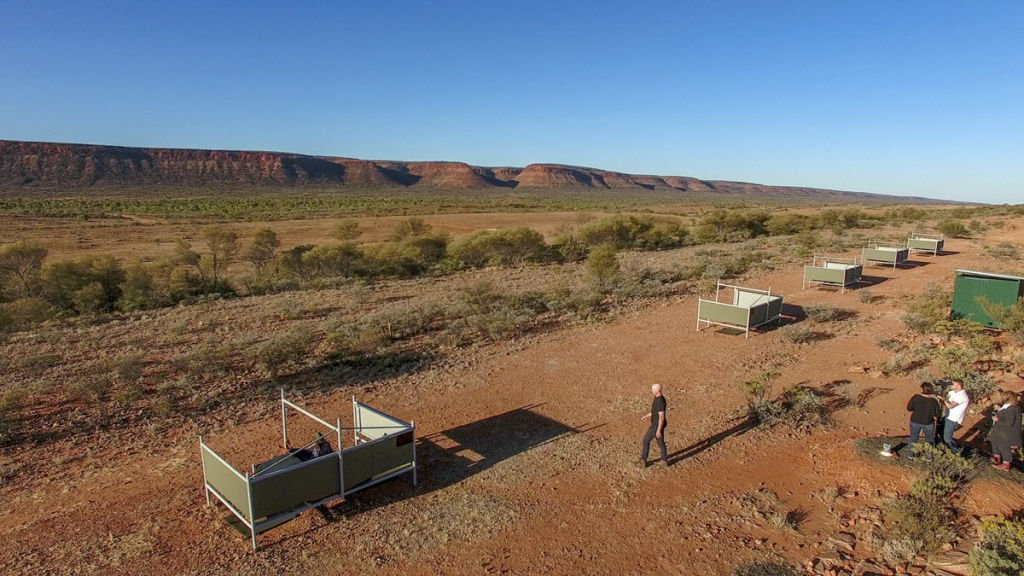 It's a working cattle and camel station – the largest exporter of wild camels in Australia – as well as a tourism enterprise.
For visitors, it offers a wide range of accommodation from bush camping and an old drovers' camp to luxury glamping, and activities such as trekking, buggy tours and helicopter rides.
Five days after the purchase went through on March 19, however, COVID-19-related regulations closed it down. It reopened on September 1.
The station was founded in 1981 by outback Aboriginal legend Ian Conway, who grew up in bush camps outside Alice Springs and took up the land originally as a crown lease.
His grandfather was William Liddle who became, in 1907, the first permanent pastoralist in the Kings Canyon region, taking a lease on the neighbouring Angas Downs Station.
Conway's grandmother was an Arrernte woman from Alice Springs, while his grandparents on his father's side were also a white pastoralist and an Arrernte woman.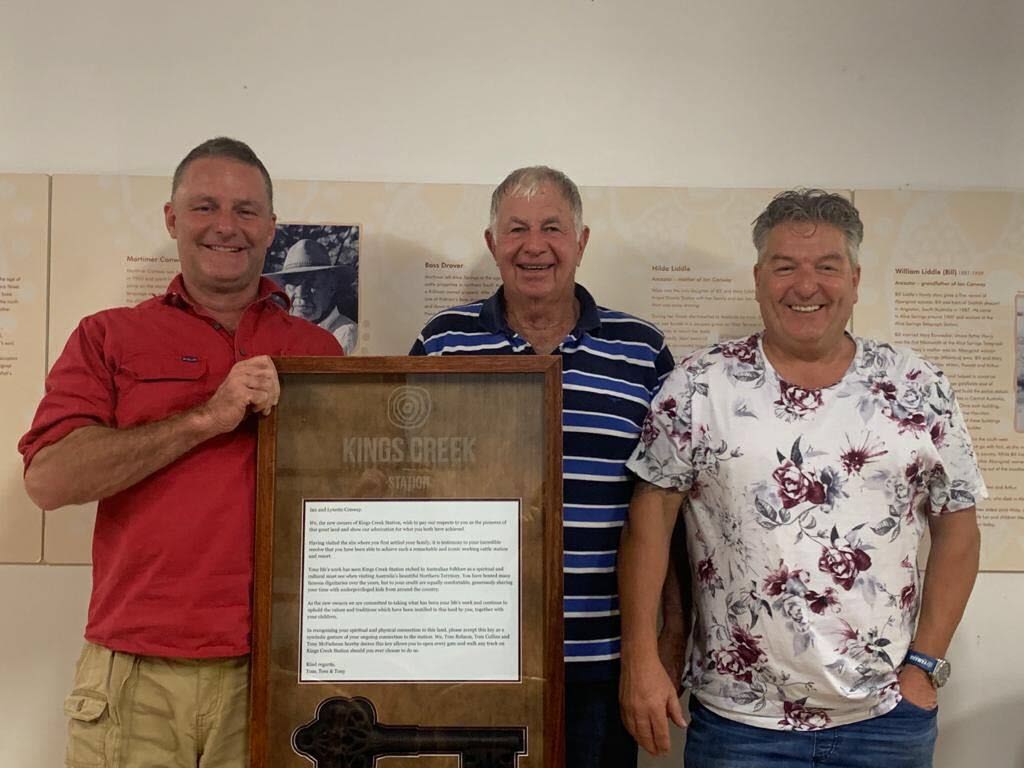 Conway, together with his wife Lyn, moved onto the Kings Creek land with no water, no electricity, no roads, no buildings and no infrastructure whatsoever. "I really also had no idea at the time, but I could see it had potential for cattle and tourism," he says today.
"We started out living there under a tree, like a couple of kangaroos. Then we had a canvas strung between two trees and after two years moved into a tin shed, a lean-to, while we worked to establish the station and developed it as we went along. And gradually cattle took second place to tourism, as more and more people visited and discovered the beauty of the land there."
Conway, now 70, finally decided to retire and move to the Adelaide Hills, where he's starting a cattle stud on a property.
But he only wanted to sell Kings Creek Station to buyers he was confident would respect the land, its spirituality, the traditional owners and the custodians. He's confident that McFadzean and his partners are the right people to take the station to its next phase.
"I've told them they can access my knowledge if they need it," says Conway, who also set up the not-for-profit Conway's Kids to provide educational opportunities for Indigenous children from remote homelands in the Kings Canyon area.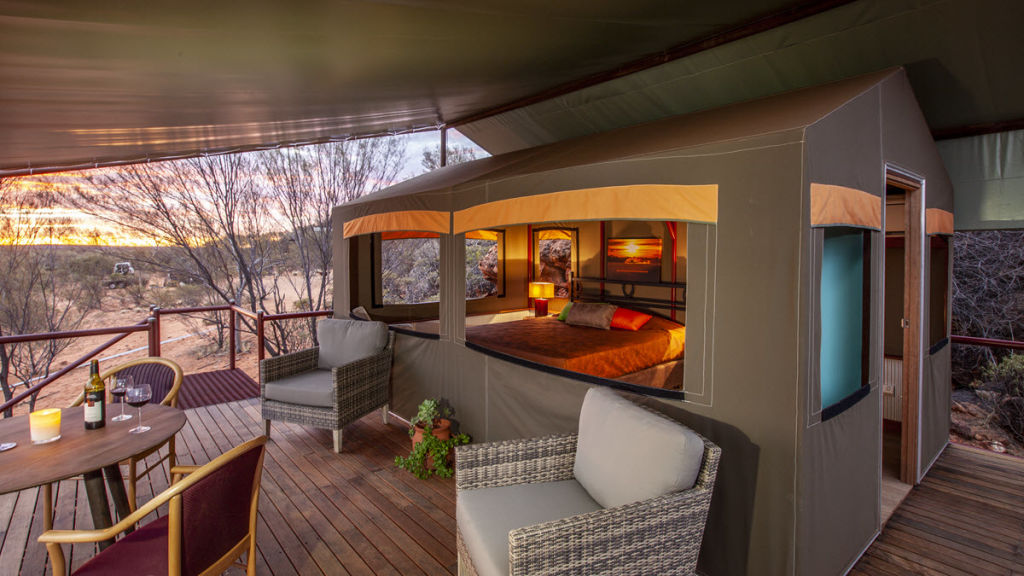 "I'll go back soon to finalise a few things and show Tony and his crew a little bit more around the country there so they understand fully what it means spiritually.
"I'm probably the most knowledgeable person in the area and I want to pass some of that knowledge on to them."
McFadzean and his Nullarbor Holdings business partners, Tom Robson, who has a business finance background, and Tom Collins, who ran an investment company as well as a number of mango properties, already own three outback businesses, but plan for Kings Creek to be the jewel in the crown.
They hope to introduce new attractions, activities, more styles of accommodation and a greater range of retail products.
"The fundamentals of retail are the same wherever you are," McFadzean says. "It's just the logistics that are different.
"In the city, you can place an order with Woolworths and receive it that evening. There, the next delivery might not be for another week, the costs are higher because of transport, and you can't nip to the corner store when you've forgotten something. You have to make sure your stock management is as good as you can make it."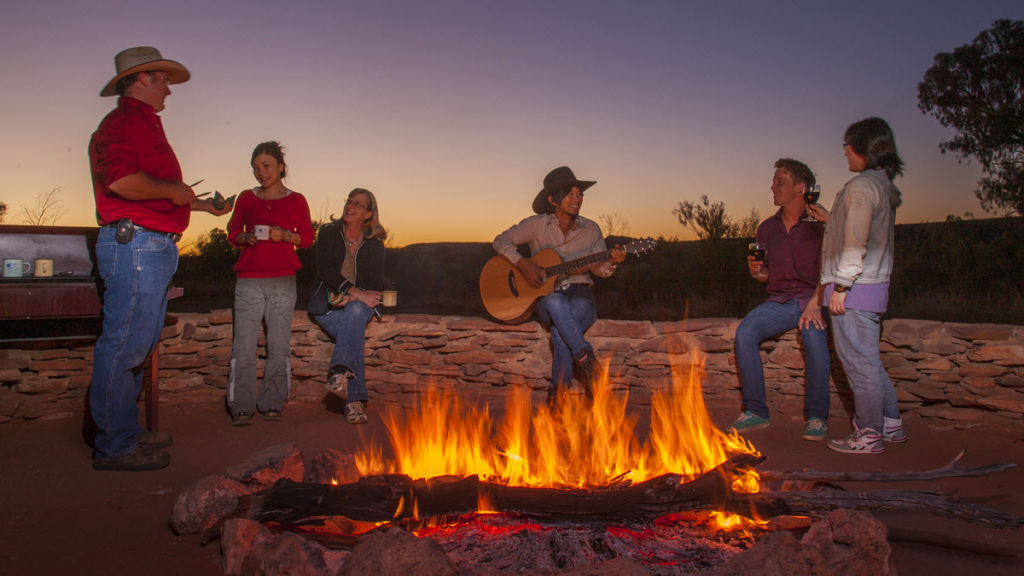 Even though the COVID-19 crisis has made their start difficult, they're convinced it also offers new opportunities.
With overseas travel now virtually impossible, and unlikely to open up in a big way for the foreseeable future, they see this as the perfect time for Australians to rediscover their own backyard, and travel more and more around the outback.
"We're in a tough time at the moment with borders closed which makes it difficult for families and grey nomads to plan their trips, but I think that later on, there will be real opportunities," says Brisbane-based Robson, 42, who did a lot of camping as a kid, growing up on the western side of Ipswich, Queensland.
"We're hoping that maybe Australians will look a bit more inwards and domestically for their travel and come out to see these awesome places. Kings Creek is a very special location. We couldn't quite believe it when it came up for sale.
"Ian and Lyn Conway did an amazing job from absolutely zero to build up the station to what it is today, and we'll continue with what they started and put in more infrastructure and introduce a few more things so people can really enjoy the nature it offers. It's such a great spot!"
Robson's brother-in-law Collins, 52, is the one of the trio who looks after everything to do with equipment, structures and the outdoors, while Robson is the numbers man, and McFadzean the retail expert.
Growing up on a property outside Cairns, Collins has always had an affinity with the outback, and outback businesses.
"We think the future for Kings Creek Station is huge," he says. "The Kings Canyon Resort is only 15 to 20 minutes away and then you've got one of the biggest tourist venues in Australia, the rock [Uluru], just around the corner.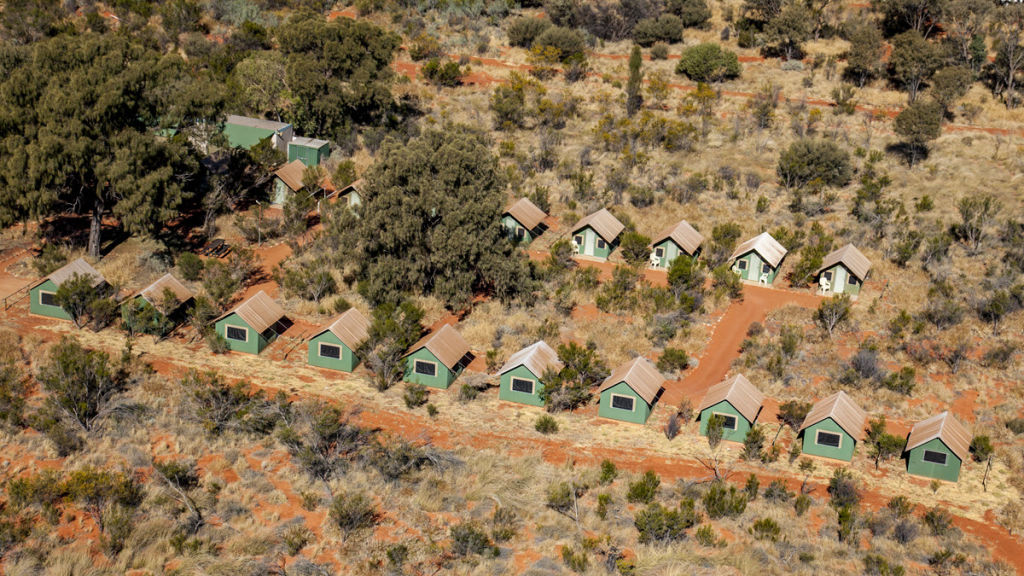 "The land there is quite spectacular and it has an earthy feel which just gets into your blood. It offers so many opportunities as it's so vast and there's so much potential.
"When the borders start opening and then later when overseas tourists are allowed back in, I think we'll be inundated, and we're now preparing for that future."
Robson and Collins went into business together, asked McFadzean to consult on the retail side for them and then asked him to join the company as chief executive.
In 2013, they bought the isolated Nullarbor Roadhouse on a 65-hectare site on the South Australian side of the Eyre Highway on the eastern edge of the Nullarbor Plain, with its fuel, 27 motel rooms, 74 caravan sites, an airstrip and an 18-hole, par-73 golf course, famed as the world's longest.
The next year, they purchased the Erldunda Roadhouse at the turnoff to Uluru, 200 kilometres south of Alice Springs, offering a Shell roadhouse, 46 motel units, 96 caravan sites, phones, internet, 30 emus, a camel and Chuck Norris the rooster.
In 2015, the trio then acquired the Border Village Roadhouse on four hectares on the South Australia-Western Australia border, with a licensed restaurant and bar, a store, fuel, 34 motel rooms, three backpacker rooms, five cabins, and 24 caravan sites.
The three titles, in 2018, reported growth approaching 20 per cent a year over the previous three years, and they've now all been fitted with car-charging stations to be ready for the advent of more electric cars.
But as well as future-proofing Kings Creek Station, they're also determined to remain respectful of its past. They even presented Ian Conway, on the handover, with a symbolic key in a glass case, saying he would always be welcomed every time he returned.
Conway was touched by the gesture and he too is optimistic that more Australians will now be visiting the outback and learning more about their country.
"It's about bloody time!" he says. "This country was built on the outback initially. It's just got so much to offer, there's so much happening all the time, with the red earth, the spectacular landscapes and the wildlife. It's so amazing, and everyone is so welcoming, too."
It's an enthusiasm that the three new owners of his station share. "Everyone knows Uluru but moving forward we'd like them to get to know Kings Creek Station, too," says McFadzean, who had a rural upbringing in the bush on the outskirts of Griffith, in the NSW Riverina.
"We're so close to Kings Canyon and we're an extra piece of fabric that can be woven into the Northern Territory experience.
"Once we've spent some more time there and understood the place, we'll be moving ahead to create more alternative accommodation and activities. It's so gorgeous out there with its red soil, wildlife, fantastic people and thousands of camels … It's a very, very special part of Australia we'd like so many more to discover. And we're looking now for our fifth outback venture …"
[dm-listing-recommendation experimentname='below-content-listings' positiononpage='belowContent']
Credit: Source link