LOS ANGELES ― Days before he died, Pedro Villanueva asked his mother for permission to go to Tijuana with his cousin over the Fourth of July weekend. She refused, worrying that Mexico would be too dangerous for her 19-year-old son.  
Now she wonders if she made the right decision.
"I said, 'Oh no, if you go to Tijuana, what if something happens to you?'" Hortencia Villanueva told The Huffington Post. "You know, [as a parent] you're always trying to protect your children. And always thinking that the worst things happen in Mexico, not knowing that these things can happen right here. I thought to myself, 'Why didn't I let him go, why didn't I let him go?'"
Two undercover California Highway Patrol officers shot and killed Pedro Villanueva on July 3, after chasing him from a so-called "sideshow" ― unauthorized events where truck drivers perform stunts like doughnuts. Neither Villanueva nor his friend riding in the passenger seat were armed.
In a year marked by politically charged police killings of unarmed black men, Villanueva's death at the hands of the California Highway Patrol sparked local protests driven by a similar sense of outrage over what many viewed as a racially motivated injustice. The case also raised questions about whether the undercover patrolmen should have opened fire when they hadn't identified themselves as law enforcement officers.
Six months later, those questions are still churning their way through law enforcement bureaucracies. The Fullerton Police Department launched an investigation into the shooting and the Orange County District Attorney's Office has yet to determine whether to bring criminal charges against the two officers. The family, in turn, filed a legal claim against the California Highway Patrol that could serve as the prelude to civil lawsuit.
In the meantime, the Villanueva family struggles to adapt to life without Pedro. Speaking with HuffPost in their most extensive interviews since Villanueva's death, Pedro Villanueva's parents, siblings and friends painted a portrait of an upbeat teenager whose unexplained death has torn a hole in their lives.  
"I have all my children, but now one is gone," Pedro's father Armando said. "Everything I smiled about, all my joy ― it was taken from me in seconds."
To those who knew him, Villanueva was an upbeat young man who liked to dance, play music and pitch in after school at the family restaurant, the Villanueva Mexican Grill. He dreamed of starting a restaurant of his own and one day buying a house, his father says. The family home in the Canoga Park neighborhood in northern Los Angeles is filled with pictures of him ― Pedro strumming the guitar, Pedro laying out at the beach, Pedro with a mouth full of braces holding his little brother as a baby.
"It only seems to get worse," Pedro's sister, Erica Villanueva, said. "You miss a person. It's kind of hard to accept it. You don't know what to do to make it better. It just comes back and it's like, 'It's real. He's not gonna come back,' you know? So I don't know how to cope with that."
On the night of July 3, Pedro Villanueva took his father's 2015 Chevy Silverado with a friend out to a sideshow in Fullerton, outside Los Angeles. But California Highway Patrolmen were also there surveilling the event, as part of an investigation into illegal street races ― though the sideshow Villanueva attended wasn't a race and was held off the street in a parking lot.
When Villanueva and his friend, Francisco Orozco, pulled out of the parking lot where the sideshow took place, two undercover patrolmen followed in a car behind them. Both officers wore plain clothes. Their car wasn't marked as a law enforcement vehicle.
The patrolmen chased the young men anyway, alleging that Villanueva's truck reached a speed of nearly 90 miles per hour, before getting lost, reaching a dead end and then turning around. When Villanueva then drove toward the officers, they opened fired, leaving at least six bullet holes in the truck's windshield. Villanueva died at the scene. Orozco was hospitalized for a gunshot wound to the arm.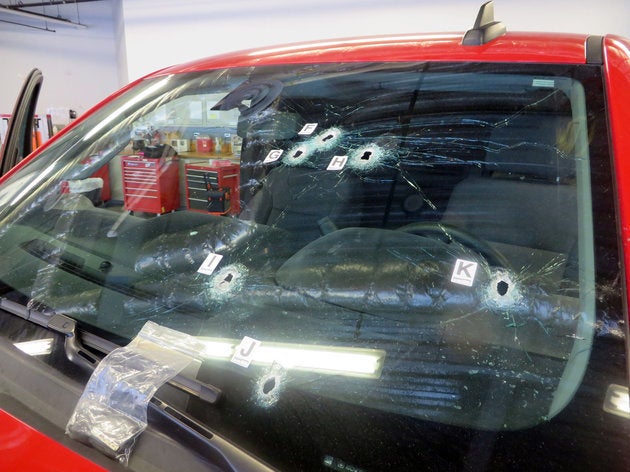 The CHP has yet to release the names of the officers involved, citing the ongoing investigation by the Fullerton Police Department that could lead the Orange County district attorney's office to file criminal charges against them. Both the CHP and Fullerton Police Department declined to comment for this story, citing the ongoing investigation.
It's common for large police departments, including the LAPD, to prohibit officers from opening fire at moving vehicles, according to The Los Angeles Times. But the CHP has not adopted rules prohibiting the practice.
"This is an ongoing investigation, and one of the biggest questions that we're all asking is what was the justification for using deadly force?" the family's attorney, Paul Kiesel, said. "Because it's undisputed that neither the driver nor the passenger had weapons … At the time, all the boys knew is that they were being followed out of the parking lot by a dark-colored vehicle. No siren, no overhead police lights. Nothing."
If the investigation results in criminal charges for the patrolmen who shot Villanueva, it will make his case unique. In the decade from 2005 to 2015, only a single police officer faced murder or manslaughter charges for a killing committed on the job, according to The Los Angeles Times.
"All I want is justice," Armando Villanueva said. "And I want other people of the same ethnicity to see that today it was my son ― tomorrow we don't know."
Whatever the outcome of the case, Armando likens the pain of losing his son to dismemberment ― it's as if someone had cut his arm off, he said. Pedro's brother, also named Armando, describes feeling a hole in his chest over his heart.
"If there was one thing that I could tell him right now, just one thing, it's that I love him," Pedro's brother said. "I miss him and I wish that I could give him a hug and a kiss. Just a big hug and never let him go."
Watch the Villanueva family remember Pedro in the video above.
REAL LIFE. REAL NEWS. REAL VOICES.
Help us tell more of the stories that matter from voices that too often remain unheard.

Credit: Source link