The Australian federal police has received a complaint via the office of the home affairs minister, Peter Dutton, that accuses the acclaimed author and historian Bruce Pascoe of benefiting financially from incorrectly claiming to be Indigenous.
The allegation was made in a letter to Dutton by Aboriginal businesswoman Josephine Cashman, a critic of Pascoe who wants the government to set up a formal register to assess people's Aboriginality.
A federal police spokeswoman said it received the allegation on
Christmas Eve and was assessing it in accordance with standard protocols. It has not launched a formal investigation.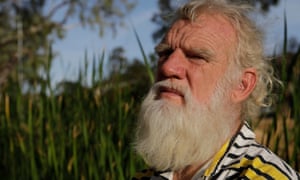 The allegation became public after being published on page one of News Corp's the Weekend Australian.
A spokesman for Dutton said it was standard practice for the minister's office to forward allegations to relevant authorities to assess, and it was not a reflection of his or his staff's views on the issue.
Pascoe is best known for his groundbreaking 2014 bestseller, Dark Emu, which drew on evidence from historical records to show Aboriginal people farmed and prospered in large villages, upending previous assumptions about Indigenous Australia.
Dark Emu won a string of awards, inspired a range of projects and has been adapted into a dance performance, a children's book and an upcoming ABC TV series. It was named book of the year and won the Indigenous writers' prize at the 2016 New South Wales premier's literary awards, and Pascoe received the Australia Council award for lifetime achievement in literature in 2018.
Following his success, Pascoe and his work have been targeted by rightwing cultural campaigners, including News Corp's Andrew Bolt.
Pascoe identifies as of Tasmanian descent and Yuin by cultural law. Cashman, a member of the government's senior advisory group on the co-design of an Indigenous voice to parliament, has previously questioned Pascoe's Yuin ancestry on social media. She declined a request for an interview on Saturday but confirmed she had written to Dutton.
The minister for Indigenous Australians, Ken Wyatt, rejected her call for an investigation into Pascoe. Through a spokesman, Wyatt said a member of the advisory committee should not have made a formal complaint about the writer's Aboriginality.
"The minister does not believe this is appropriate," a spokesman said.
Wyatt has previously said he does not support a register to assess Aboriginality. Last year, he defended Pascoe in an interview on Sky News, saying: "If Bruce tells me he's Indigenous, then I know that he's Indigenous."
Pascoe has been fighting bushfires in east Gippsland and could not be reached on Saturday. His son, Jack Pascoe, said the fires had been burning on his father's property, that many of the writer's friends had lost their homes and one had been killed.
"Given the stress of the situation, our family is surprised by the timing of these allegations coming around again," Jack Pascoe said.
"We stand by the identity of our family. The insinuation that my father has fabricated his heritage is hard to take because for him it's an issue that has been part of the public discourse for 40 years."
Jack Pascoe, who is the conservation and research manager at the Conservation Ecology Centre in Cape Otway, said the complaint seemed to be driven by the push by Cashman and others for registry of Aboriginality.
"I'd prefer to be talking about how our traditional ecological knowledge could help mitigate damage from bushfires and reduce risk to communities rather than be talking about these distractions," he said.
Indigenous academic Marcia Langton, the co-chair of the advisory group, last year said on Twitter that Pascoe was collateral damage in a fight against the facts of Aboriginal history.
Cashman's push for a register was criticised on social media on Saturday.

Credit: Source link