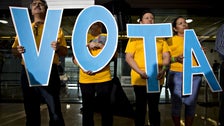 Latinos are the fastest-growing minority group in the American electorate. Pew estimates that the group has gained the most eligible voters between 2012 and 2016, and will likely continue to increase. How heavily the group continues to support Democratic candidates will factor into future election outcomes.
But no one is sure exactly how Latinos voted in the 2016 election. Estimates of the vote vary from 66 percent for Hillary Clinton and 28 percent for Donald Trump in exit polls, to 79 for Clinton and 18 for Trump in a Latino Decisions pre-election survey. Both sets of numbers show Latinos heavily supporting Clinton, but it matters whether it's an overwhelming 61-point Democratic lead or a more modest 38-point advantage.
It's not clear who is right, though.
Joe Lenski, executive vice president of Edison Research, said that one major difference between the polls is that Edison and Latino Decisions use different factors to classify Latino voters.
Latino Decisions, an independent research firm focusing on Latino politics that counted Clinton's campaign among its 2016 clients, asks a generic question about Hispanic identity. Edison Research ― which conducts the exit polls on behalf of the media consortium of CNN, NBC, ABC, Fox, CBS and The Associated Press ― asked for both race and ethnic descent.
By asking a two-part question, the exit poll includes people with Hispanic ancestry who might not identify primarily as Hispanics, according to Lenski.
(While many pollsters classify Hispanic as a race, the terms "Hispanic" and "Latino" refer to a person's ethnicity, and he or she can belong to any race.)
On the other side, Latino Decisions criticizes the exit poll for its lack of sampling in areas where large amounts of Latinos live, saying that exit polling groups don't control for demographic data.
At an event hosted last week by the Center for American Progress Action Fund that focused on the Latino electorate, Matt Barreto, managing partner at Latino Decisions, said the Edison exit poll will often oversample in specific precincts where it knows it'll be close.
Lenski believes it's better to poll both Latinos who live in high-density Hispanic areas and those who are more separated in order to get a representative sample. Like other racial and ethnic groups, rural Hispanic voters shifted more toward Trump than Hispanic voters living in higher Latino-populated areas. While Latino Decisions feels that seeking out these voters is a way for Edison to make the election more dramatic, Edison says it is working to create a more accurate picture.
However, both groups agree that Trump did very poorly with Hispanic voters. Trump gained the second-lowest support (by 1 point) from the Hispanic community ever. The lowest was Mitt Romney with 27 percent of Hispanic voters in 2012, according to exit polls.
Lenski also agreed with Barreto that as pollsters, they need to recognize the differences within the Latino community. It's not just one group with one common goal. Emmy Ruiz, political advisor to the Clinton campaign, commented at last week's panel that "we need to integrate our campaign into their community, not the other way around."
The differences in how race and ethnicity are classified and how the surveys sampled voters explain why the polls show varying estimates of how Latinos voted, and both methods are valid. We'll have more insight into how Latinos voted in 2016 when the Census Bureau's Current Population Survey data comes out next year.
REAL LIFE. REAL NEWS. REAL VOICES.
Help us tell more of the stories that matter from voices that too often remain unheard.

Credit: Source link