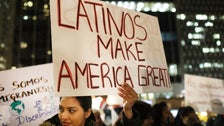 As a candidate, President Trump used bigotry as a weapon to pit American communities against each other. And now, for all the talk about the Trump Administration's lack of meaningful accomplishments in its early days, one irrefutable accomplishment has gone under the radar: cementing candidate Trump's platform of stoking deep animosity toward the Latino community. This administration is hoping to accomplish this by unmistakably painting our community as an "other" and not truly part of the American fabric.
One need not dig deep to find evidence of this animus. Literally on day one, candidate Trump called Mexicans and Latin Americans "criminals, rapists, and drug dealers." Many thought he was talking about immigration policy; we knew better. Some excused the remarks as unscripted, but the candidate later admitted under oath they were, in fact, pre-planned.
He then attacked a distinguished jurist, claiming the Indiana-born federal judge Gonzalo Curiel could not be impartial because he was "Mexican." Our community, and Mr. Trump's growing base of white nationalist admirers, got the message loud and clear: his candidacy was about race, ethnicity, and bigotry, not immigration policy.
Trump further confirmed this with his selection of staff and cabinet that have made White nationalist organizations "ecstatic," including Steve Bannon, Stephen Miller, and Attorney General Jeff Sessions. These men, now in charge of implementing the President's distorted and toxic vision, all have significant history with such groups.
Attorney General Jeff Sessions was notoriously rejected for a federal judgeship in the 1980s over concerns about his apparent racial animus. What also stands out is his treatment of Supreme Court Justice Sonia Sotomayor during her confirmation hearing. Sessions did not just immediately oppose her nomination, he led the Senate's opposition to her. In short, he stated that he did not believe that – despite decades of evidence to the contrary ― Justice Sotomayor could be impartial because she had said she was a "wise Latina."
Steve Bannon was the publisher of Breitbart.com, the self-proclaimed "platform of the alt right." As the Daily Beast noted "Bannon didn't just make Breitbart a safe space for white supremacists; he's also welcomed a scholar blacklisted from the mainstream conservative movement for arguing there's a connection between race [and ethnicity] and IQ."
Trump's policies since the election have also continued the trend. He said he would go after "bad hombres" but his own Immigration and Custom Enforcement agency's data reveal that compared to his predecessor, arrests of non-criminal immigrants has doubled. His Attorney General Jeff Sessions recently threatened to withhold funds from cities that refuse to act as immigration agents, despite court rulings that they're abiding by the law and pleas from police chiefs that the policy would undermine public safety. The Trump Administration has also ignored evidence that the threat of mass deportations is deterring Hispanic victims from reporting serious crimes like domestic abuse and rape. Apparently purported crimes by Latino immigrants are a matter of massive national significance, but crimes against Latinos just don't matter.
Mr. Sessions backed out of longstanding Justice Department litigation seeking to protect Latino voting rights in Texas, despite not one, not two, but four previous federal court rulings that the Lone Star State has intentionally restricted the voting rights of Hispanic citizens.
And then there are the telling acts of omission by this administration. Breaking with bipartisan tradition, his first round of Cabinet appointments didn't include a single Hispanic; spokesperson Sean Spicer helpfully explained that the administration was seeking "the best and the brightest," as if that term and "Latino" are mutually exclusive. It goes without saying that there are no Hispanics appointed to senior positions in the White House.
Since taking office, the president could not be bothered to even meet with the Congressional Hispanic Caucus nor the Congressional Hispanic Leadership Institute, either. He has not met with heads of presidents of the many dozens of predominantly Latino colleges and universities, known as Hispanic-Serving Institutions or for that matter, the leaders of major national Hispanic organizations.
Whether looking at the administration's words or deeds the pattern of hostility towards Latinos is clear. But this will not be a one-sided battle, we and other Latino organizations will protect and defend our community from this assault. And we will enlist the help and support of the majority of Americans we believe are deeply troubled by the pitting of Americans against each other, whether through race, ethnicity, religious belief, or sexual orientation. In the America we know, we celebrate our differences and make them work for the good of all, not try to denigrate or eradicate them. In short, we recognize that our diversity makes our country stronger. The question is whether we can count on the majority of Republican leaders who we believe also reject the cynical exploitation of anxiety over demographic change and the ratcheting up of division and bigotry to join us as well.
REAL LIFE. REAL NEWS. REAL VOICES.
Help us tell more of the stories that matter from voices that too often remain unheard.

Credit: Source link