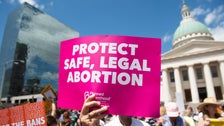 A proposal to ban abortion with no exceptions for rape and incest is moving through the South Carolina state legislature. 
South Carolina's Senate Medical Affairs Subcommittee passed House Bill 3020, commonly referred to as a "fetal heartbeat" bill, in a 4-3 vote on Tuesday morning. The legislation would ban abortions at the moment fetal cardiac activity can be detected, which can happen as early as six weeks into pregnancy ― when many people don't realize they're pregnant. Under the proposed legislation, doctors who perform abortions after cardiac activity is detected would face criminal charges. 
Republican state Sen. Richard Cash successfully introduced an amendment to the bill to strip any exceptions for rape and incest. 
"You are in fact killing an innocent human being. Whether you mean to or not, you are punishing a person wrongfully for something he or she had nothing to do with," Cash argued on Tuesday, The State reported.
"Anyone who is alive who was conceived in rape would probably be very glad that they are alive," he continued. "And would probably be very willing to discuss and argue with you about their right to life while in the womb." 
The bill does include an exception that allows abortion if the pregnancy puts the pregnant person's life at risk.  
The bill, which passed in the state House earlier this year, now heads to the full Senate Medical Affairs Committee, where it is expected to pass and head to the Senate floor. The legislation would have to go back to the House for approval before heading to Republican Gov. Henry McMaster's desk. McMaster said in May that if the Senate passed the bill, he would sign it into law. 
The American Civil Liberties Union of South Carolina has decried House Bill 3020, writing in a statement that the legislation is "yet another attack" on reproductive freedom. 
"This medically unnecessary hoop to jump through is just another example of the legislature of South Carolina trying to control women, in any way possible," the ACLU of South Carolina wrote in a statement on its website. 
Calling all HuffPost superfans!
Sign up for membership to become a founding member and help shape HuffPost's next chapter

Credit: Source link