Five children were shot in four separate incidents over the weekend in Texas, highlighting a sobering statistic for a state already struggling with gun violence: Texas ranks first in the nation for unintentional shootings involving children.
Authorities said the spate of shootings included a 4-year-old boy who was shot and killed by his 5-year-old brother; a 6-year-old who was shot with a rifle by his adolescent brother; a 3-year-old who was possibly grazed by a bullet, an 8-year-old who sat on a semiautomatic handgun; and a 14-year-old girl who was reportedly being treated for injuries, according to CBS 11.
These shootings evidence a parallel problem of youth gun violence in a state that has already been devastated by several mass shootings in 2019, including one of the nation's deadliest ever, in El Paso in August.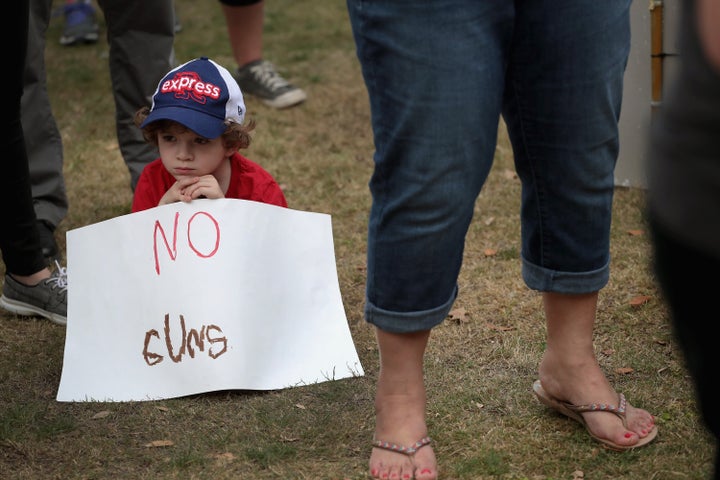 Prior to that shooting, Texas already led the nation in unintentional shootings by children, according to a report by the Houston Chronicle that cited data collected by Everytown for Gun Safety, a gun violence prevention group. Nearly 200,000 Texas children live in homes with unlocked, loaded firearms, according to Brady Campaign statistics. 
That's a dangerous combo ― a report from Everytown estimates that one-third of youth suicides and unintentional deaths are prevented by securing guns properly.
"When firearms are left unsecured, the consequences can be deadly," said Everytown Research Director Sarah Burd-Sharps.
In 2018, there were 25 unintentional shootings in Texas involving children who found a loaded firearm. With several months remaining in 2019, that number has already reached at least 24, according to Everytown's #NotAnAccident index, which tracks unintentional shootings across the country.
Texas Governor Greg Abbott (R) approved a spending bill in June that allocated $1 million toward a public campaign advocating for safe gun storage.
REAL LIFE. REAL NEWS. REAL VOICES.
Help us tell more of the stories that matter from voices that too often remain unheard.

Credit: Source link