Australian Greens
For Aboriginal people, racism begins at birth.
And as the Greens' incoming senator Lidia Thorpe explains, it's up to all of us to unpack the conscious and unconscious racial bias that plagues our justice system.
By Lidia Thorpe
Black deaths in custody don't begin and end in prison. If you're Aboriginal, it begins at birth. Systemic disadvantage makes Aboriginal people vulnerable to persecution and prosecution because racism is everywhere: schools, hospitals, the workplace. Not everyone feels like they're in a position to call it out. So they don't go to the hospital. They don't go to school. They don't seek help and they're punished when they do.
A good example of this is Ms Dhu. She called the police because Dion Ruffin had violated an apprehended violence order. The police then arrested her and Mr Ruffin. In the 20 hours leading up to her death, Ms Dhu was discharged from Hedland Health Campus twice, with doctors citing 'behavioural issues' and the belief that she was exaggerating her condition.
Upon her third visit to the hospital, when she literally had a heart attack, Constable Christopher Matier continued to say that she was 'faking it' as nurses gave her CPR. Ms Dhu died from sepsis and pneumonia due to an infection in a rib that Ruffin had broken three months earlier.
A fair go for all?
We have two laws in this country; two sets of rules. Unfortunately, if you're Blak, you are more likely to die at the hands of the system than if you're white.
Earlier this year, Veronica Marie Nelson Walker was found dead in her cell three days after being arrested for shoplifting. Last year, Cherdeena Wynne was arrested in a case of mistaken identity and died five days later. Her father, Warren Cooper, died in police custody 20 years earlier. They were both 26 years old.
Data from the Australian Bureau of Statistics and the World Prison Brief reveals that Indigenous Australians are the most incarcerated people on Earth. This is not what 'a fair go' looks like.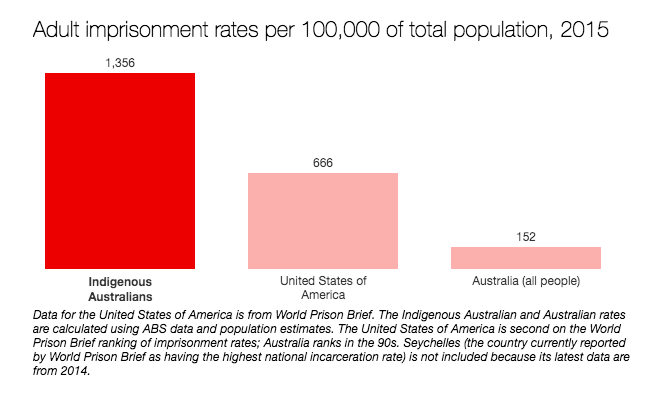 Australia has the world's highest rate of juvenile detention, with the United States of America being ranked second behind the land down under. Despite repeated international and domestic criticism, the age of criminal responsibility remains at 10 years of age. This has meant that, in 2009, a 12-year-old Aboriginal boy was charged with two counts of receiving stolen goods: a Freddo frog (worth 70 cents) and an inexpensive sign reading "Do not enter, genius at work." Johnny Warramarrba was 15 when he committed suicide in Don Dale prison, after being arrested for stealing stationery.
Cherdeena Wynne's mother told NITV that during the arrest, "She shouted to me, 'mummy I can't breathe.'" David Dungay Jnr's last words were, "I can't breathe." He said this to prison guards 12 times before he lost consciousness.
Believing we can do better
Aboriginal people are being suffocated by the status quo. Our people deserve an equal chance at a good quality of life, not to be tormented by those who are meant to keep us safe.
If we want to address inequality, people need to be prepared to move out of their comfort zone. People have to understand their privilege and be a part of the solution. That means giving up some of your privilege. Elevate the voice of Aboriginal people – don't speak for us. Give up your seat for an Aboriginal person.
Police brutality could not exist if our humanity was equally recognised. That's what is missing from this picture: the compassion that comes from meeting people at eye level and not from a position of power looking down.
Having empathy isn't about letting people off the hook – it's about holding them (and ourselves) to a higher standard and believing that we can be better. It's up to all of us to unpack the conscious and unconscious bias that plagues our justice system.
Lidia Thorpe is a Gunnai/Brabwauloong/Briakaloong/TjabWurrung/Gunditjmara woman. She will be the Greens' new senator for Victoria to replace Richard Di Natale, and is a former Victorian state MP for Northcote.
Hero image: Mitchell Luo via Pexels.
BACK TO juNE issue
/Public Release. View in full here.
Credit: Source link