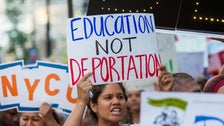 In politics, there are not often clear rights and clear wrongs in any given situation. As members of Congress, we know that policy variations and nuances make much of our job an inexact science.
But that is not the case when it comes to our nation's policies toward DREAMers, the young men and women who were brought to the United States as children. Our position toward them should be clear: These children are Americans in their hearts and minds; they should be Americans on paper as well. 
Despite overwhelming evidence that DREAMers help grow our economy, they are once again under threat.
They are called DREAMers after the DREAM Act that would permanently protect their rights, but also because they are doing their best to live the American Dream. Having been raised here and having spent significant years contributing to their communities both economically and socially, these DREAMers should be able to remain in the country they've always known, free of the fear of deportation, separation from family, or being blocked from opportunities like college or employment.  
But despite overwhelming evidence that DREAMers help grow our economy, they are once again under threat. The Trump administration is signaling its plan to undo the Deferred Action for Childhood Arrivals (DACA) program within the coming days. 
This would be not just a seriously misguided decision, but an immoral one.
It would do nothing to stem the tide of illegal immigration and would move us further from the fundamental reforms our immigration system needs. We'd be no safer if DREAMers were forced to leave the country and, by all accounts, worse off as a nation in many ways. 
As just one example, ending the DREAMer program would seriously impact our economy. A recent study found that ending DACA would lead to a $460.3 billion loss in the national gross domestic product over the next decade. 
Consider that in New York, these young men and women contribute more than $2.5 billion to the state's economy. In New Mexico, the state would see a nearly $400 million-dollar annual loss to its GDP if DREAMers were suddenly absent from its economy. The impact in California would be even greater. Workers who benefited from the DACA program contribute a staggering $11 billion annually to the economy there.
Democrats in Congress have been fighting for comprehensive immigration reform for years, urging our GOP colleagues to join us in pursuing legislation that would provide solutions to improve our tangled web of immigration laws.
There has been no movement, no response on what had until recently been reforms with bipartisan agreement.
And now a Republican president is prepared to make it worse by taking away a program both Republicans and Democrats and the vast majority of the American public agree has been a positive and transformative initiative for our nation and the 800,000 DACA recipients. 
[Trump] is taking away a program both Republicans and Democrats agree has been positive and transformative.
This is not something we will stand for. If the Trump administration moves forward with their misguided plans to end the DACA program, we will stand with DREAMERs.
We stand for those who were brought here as children and were raised to know no country other than the United States. We stand for those children who have gone on to become educators, doctors, scientists, and small business owners. We stand for those who served our country proudly in the military or at home. 
This is because Democrats stand for a better United States and the American Dream.  Our nation values and welcomes those that work hard and positively contribute to our country.  These young people have the qualities our nation was built upon and should be welcomed, not cast out.   
Michelle Lujan Grisham represents New Mexico's 1st congressional district and serves as chairwoman of the Congressional Hispanic Caucus.
Joe Crowley represents New York's 14th congressional district and serves as the chair of the House Democratic Caucus.
Linda Sanchez represents California's 38th congressional district and serves as the vice chair of the House Democratic Caucus.
REAL LIFE. REAL NEWS. REAL VOICES.
Help us tell more of the stories that matter from voices that too often remain unheard.

Credit: Source link