By Wayne Robinson | 3 April 2020
Sista Girl Sign & Print is launching today, with its co-founder Raquel Todd making it clear she has a determination to do great things for the Aboriginal community.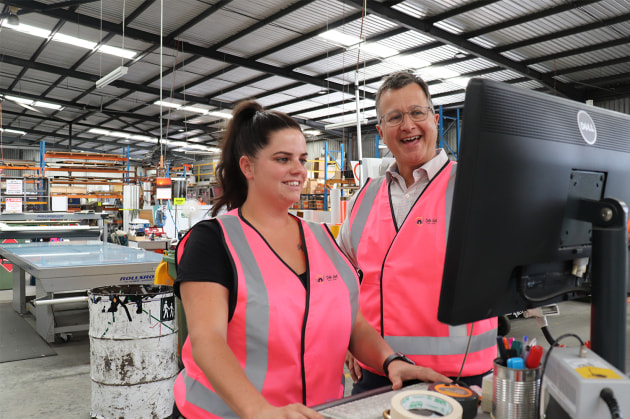 Sista Girl is a joint venture company with the largest signage business in WA, Jason Signmakers, where John Mancini is the managing director.
While the current environment due to coronavirus meant the official launch event this month was cancelled, the Sista Girl team has been busy getting ready to launch. During March it launched the website and saw the first customer orders for print and signage rolling in the door.
Raquel Todd said, "I first met and worked alongside John Mancini in 2013. Since then we have been looking for an opportunity to partner together to create a business that can help to improve the lives of Aboriginal people. We are both excited to introduce Sista Girl Sign & Print as a vehicle to help us do that.
"From the get-go we felt it was important to establish our three pillars of Aboriginal Engagement – workforce, community and supply chain. We are fortunate to partner with the Jason Signmakers Group, which provides us with access technology and expertise in print and signage technology. I am excited about the opportunities this JV presents, particularly our ability to empower Aboriginal women in the print and signage industry."
John Mancini said, "The joint venture with Sista Girl Sign and Print supports Jason Signmakers' wider mandate for Aboriginal Engagement across the group. I am pleased to confirm that our experienced sign experts will be providing training, coaching and mentorship to the Sista Girl Sign and Print team as they grow their capabilities. It's been great to work with Raquel again and help her become an entrepreneur in her own right."
Sista Girl Sign & Print specialises in keeping people at work safe through worksite safety signs, equipment and high quality HSE printed resources. It can also provide Australian and Main Roads WA compliant road signs and accessories, as well as business signage and printed collateral.
It is currently running a campaign to support businesses with their coronavirus related workplace messaging.
Credit: Source link